One of the first things I noticed upon starting on P2002 was that several guildmasters weren't labeled on the Titanium map of the Plane of Knowledge. I even came across two separate OOC conversations in which other newbies ran into the same problem and were unsure whether or not they could train in PoK. In response, I took it upon myself to do some minor revisions to
poknowledge.txt
to more accurately reflect P2002's incarnation of the popular zone.
The changes are as follows:
Added labels for 20+ missing guildmasters
Fixed incorrect height value for the neutral GM Ranger (Elwysaie)
Fixed incorrect X/Y coordinates for the neutral GM Bard (Legilwan)
Added a missing evil Tinkering merchant (Maryalis)
Renamed Gukta Portal to Grobb Portal
Removed labels and linework for non-existent Arena, Gunthak, Guild Lobby, and Bazaar zonepoints
The northern ("good") side of the zone benefits the most from this update, as this area inexplicably had
zero
labeled guildmasters despite housing quite a number of them. Compare the before-and-after of this region to see how dramatic the difference is: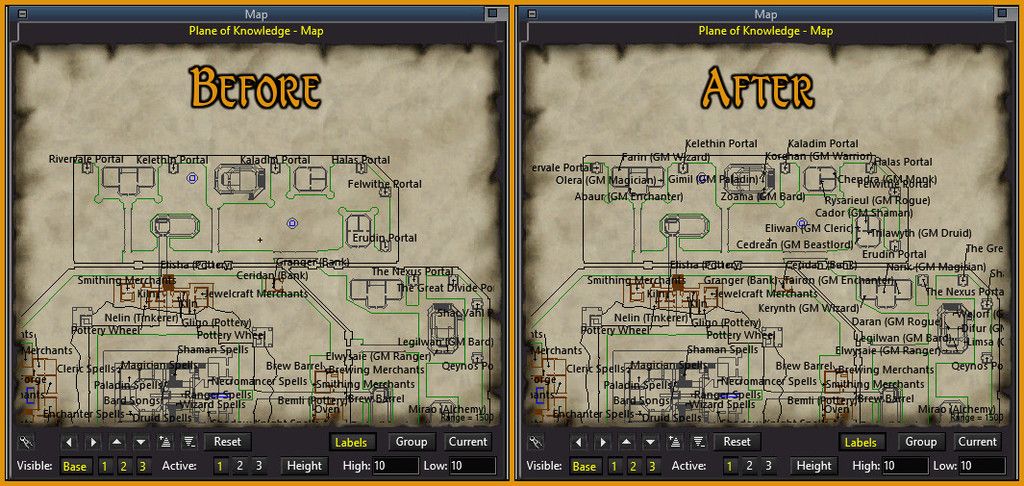 Note that many guildmasters path back and forth slightly within their respective buildings, which means some labels may only be accurate some of the time; however, this same shortcoming applies to all previously labeled guildmasters and shouldn't pose any obstacle in actually locating any of these NPCs.
To install and enjoy this revised map, do the following:
Make a backup of your current poknowledge.txt file just in case you need/want to revert for any reason.
Download the updated map file from Google Drive here:
Place the downloaded file in the maps folder within your P2002 directory, overwriting the pre-existing version.
Load into Plane of Knowledge and open the map to verify that it works.
Find that silly guildmaster you could never find as a newbie!
If anybody is willing to give this a go, please post a response to let me know that it works properly on your end. And if you discover anything else important that I've left out, share it here and maybe it'll be worth a second revision later on.